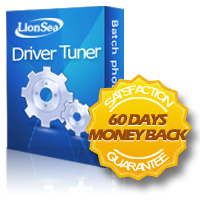 Limited Time Offer!
50% Off
the regular retail price
Now Only
$59.9

$29.97
100% Secure Internet Payment Processing
Built on industry-leading security and encryption standards, we ensure top level privacy assurance and data integrity.


Get full access to your driver downloads for only $29.97!
Automatic drivers updates & backup
Unlimited 24x7 technical support
Full 32 & 64-bit Support for Windows 7/Vista/XP
Special Offer - Act Now - Ends on Sunday, December 10th, 2023!
50% Off Coupon
*
Instant Online Savings
Has Been Automatically Applied.
(Expires on Sunday, December 10th, 2023 )

Keep your drivers up-to-date and your computer running optimally with DriverTuner!

Register With Confidence!
Our unconditional 60-day money-back guarantee is in full effect for all orders. Your satisfaction is our #1 goal. If you are not satisfied with your purchase, just let us know and we will be happy to provide you with a full refund.